Welcome to
Reception Class!
Our topics in Reception Class 2019 - 2020
will be guided by the months of the year.
January
Happy New Year!
The children were very excited to see their friends again after the Christmas break. They were keen to share their experiences of family celebrations and trips out.
In Term 3 we will be looking at winter and seasonal changes, animals and humans living in colder climates (comparing Arctic and Antarctic), freezing and thawing, different materials e.g. materials used for clothing. In Literacy we will be reading Traditional Tales and using our knowledge to inform our writing. In maths we will be learning to add and subtract. We will also be learning about Chinese New Year. A busy six weeks!
Art: The children thought about seasonal changes and what winter looks like in different places across the world. They then created a collage in the style of Pieter Bruegel the Elder's painting Hunters in the Snow.
Lots of fun was had during Challenge Time when the children used their gem powers to work together to make play snow!
Maths - Using counters and a 5 frame the children were introduced to addition. They successfully found the correct totals and were able to record their number sentences using symbols.
Progressing to a 10 frame ....
Child initiated activities: Making microphones to be used in the singing booth.
The children took full advantage of the sunshine today and took their learning outdoors. They numbered seats, made tickets and put on a show! Rock music, folk music, own compositions and Irish dancing was enjoyed by all.
Experimenting with gradient and speed ....
The Three Little Pigs. After reading the traditional tale and writing the story the children then built their own houses from bricks, sticks and straw.
Chinese New Year!
We love to read and write!!!
Warming winter cookery - Patatas Bravas
The children practised using sharp knives to cut potatoes into cubes. They then made a tomato sauce.
December
The children worked extremely hard and the Nativity performance was enjoyed by all.
photos to follow.
November
Firework painting
Music and movement inspired by fireworks
Maths

3D shapes - names and properties
Place value
Learning tricky words and reading ...

Artwork in the style of Paul Klee
Thursday Teas at St Peter's Church
Light and Dark
Exploring shadows
A visit to The Pig
A huge thank you to the staff at The Pig for their kind invitation to make lanterns and shadow puppets with Reception class. The children had a fabulous time.
We enjoyed hot chocolate, homemade pig biscuits and a story by the fire.
RE - celebrations and traditions
Preparing a birthday party ...
October
Whole school topic:
Our local area
Reception class visited Newton St Loe
After listening to residents of Newton St Loe the children drew a map. They used it to find the church, farm, cafe, playground and hidden treasure!!!
Each class prepared a presentation to be given to the whole school in assembly. Reception class made a map, church, piglets, sheep, horses and a tray with cups and saucers to represent their visit to Newton St Loe.

Map making
Colour mixing to make paper plate pink piglets.
Junk modelling to make fluffy sheep.
Building a church!
Role play and writing in the 'Unicorn Castle'.
Numeracy - making and breaking 5
How many ways can we make 5?
Learning to read
Counting objects
Our first school trip together.

Today we spent the afternoon at Avon Valley Country Park. We went on a country walk to spot signs of autumn, fed the animals and chose a pumpkin to take home to our families. We had great fun and the children were delightful company.

Hedgehogs and hibernation
After watching a video clip about hedgehogs in the autumn we decided to make our garden hedgehog friendly. The children collected leaves and placed them in a dark corner under logs to provide a possible home for hedgehogs over the winter.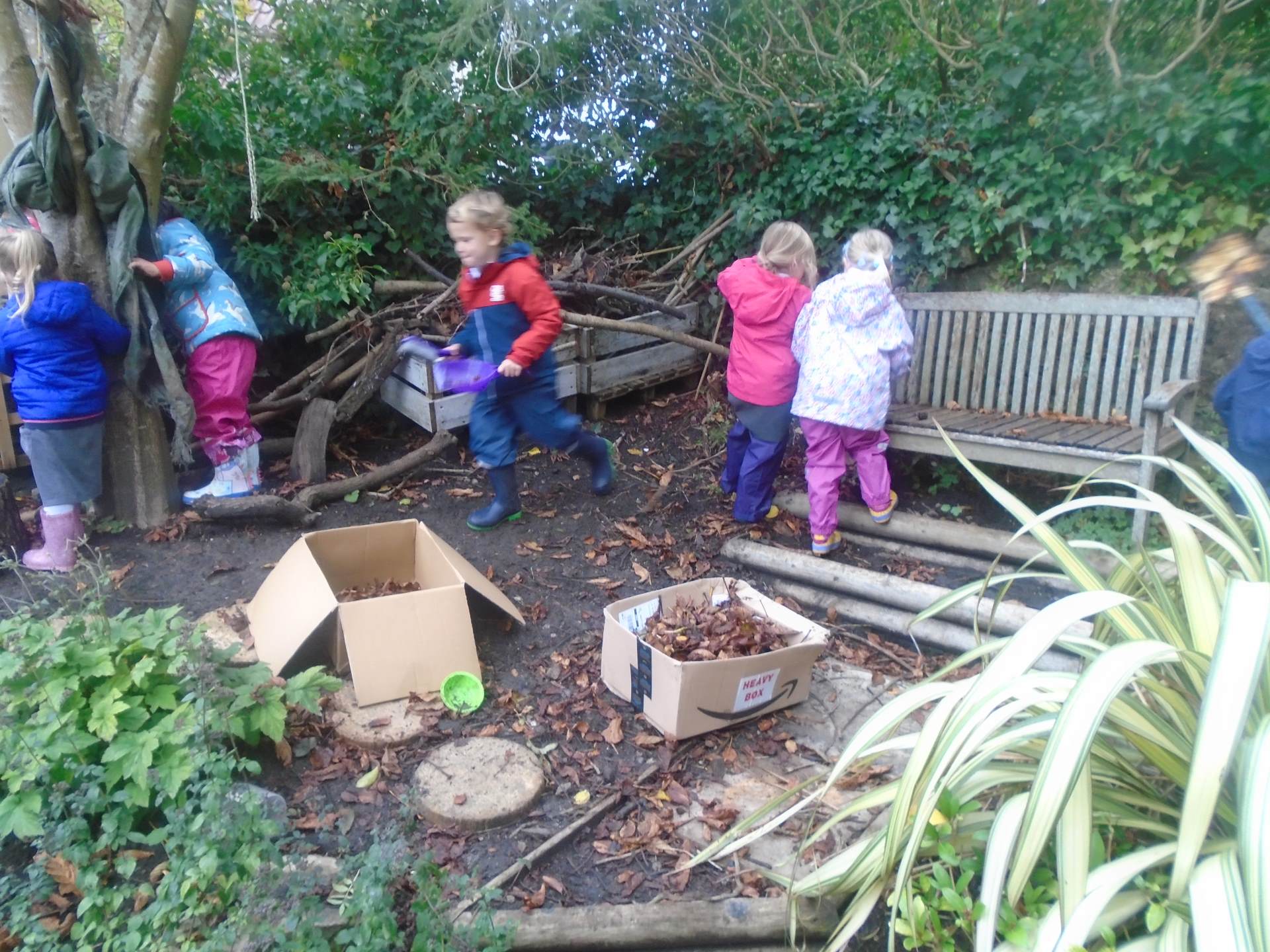 Our community - visiting St.Peter's church.
Leaf week!
Thank you everyone for your help in collecting a huge selection of autumn leaves!
We looked at the different types, shapes, colours and sizes.

Leaf rubbings
Making muddy puddles!
Questions asked by the children ...
Where do puddles come from?
How do you make a puddle?
What happens to the puddle when the sun shines?
What happens to the creatures in the puddle?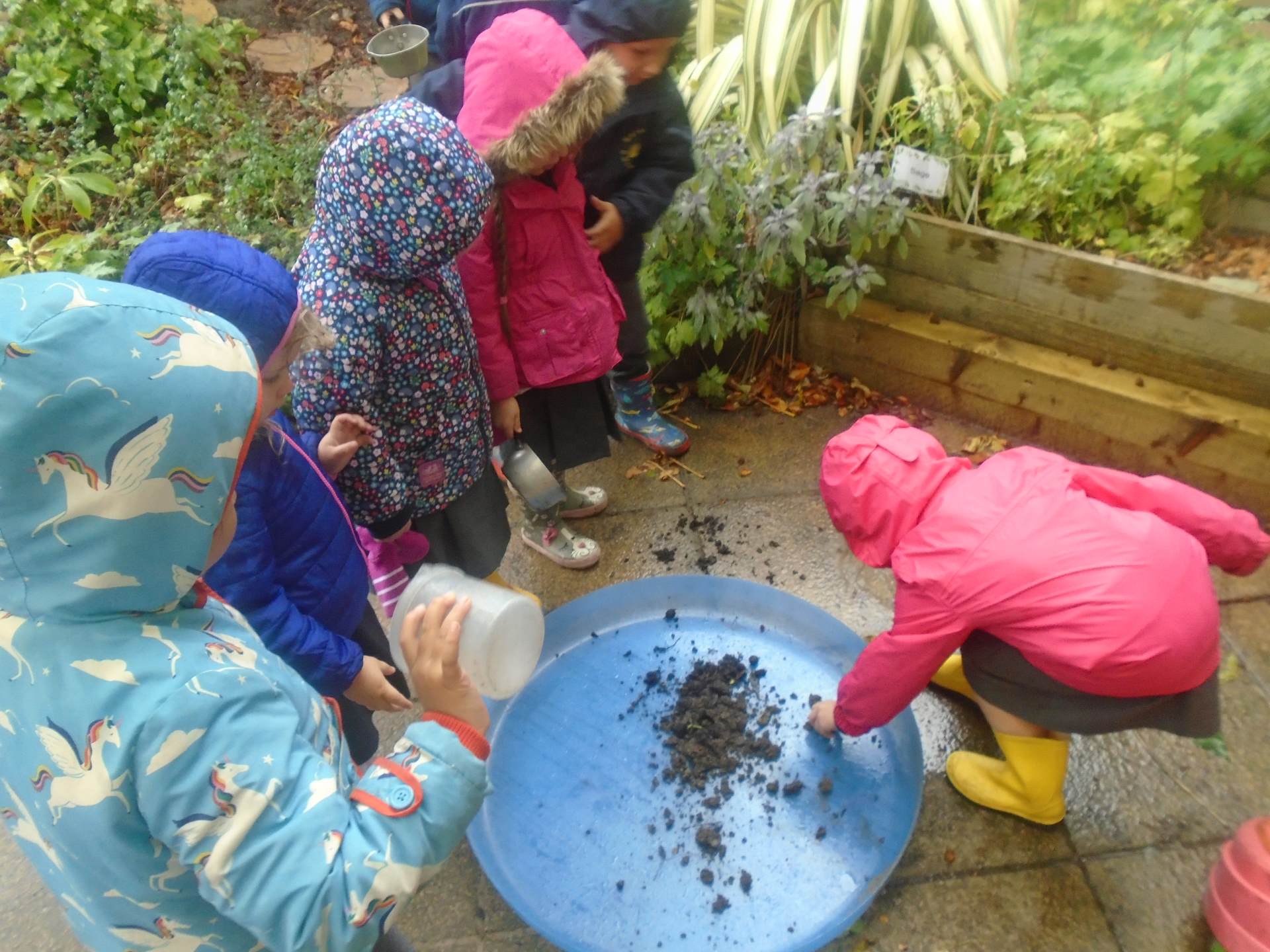 Camouflage
Today, the children were very interested to explore how leaves could act as a camouflage in woodland areas
for foxes and owls.
Can you see the fox and owl?

Leaf creatures
We read the text 'Leaf Man' by Lois Ehlert.
The children then made their own leaf creatures ...
September
For topic web please click here.
We have had such an enjoyable first few weeks in Farrah Class and everyone is making friends. Below are a sample of photos.
Please remember to send in your photo permission slips so that we can add more photos of our learning!
Exploring colour mixing
Blackberry picking
Mark making and writing!

Den building
Maths - repeating patterns