Welcome!
Puddle Class 2022 - 2023
Please scroll down the page for Topic Webs
Our two weeks of swimming!
At Marksbury, each class is fortunate to have a two week swimming block at Keynsham Swimming Pool each year. Puddle Class went with their year 5 and 6 buddies in Ocean class and we had an amazing two weeks, full of progress and fun! We all had a wide range of experience when it came to swimming, with some taking weekly lessons outside of school and others who enjoy swimming on holiday, but by the end of the two weeks, we all had a go at swimming the length of the learner pool, got our hair wet and jumped in!
Well done Puddle Class for all you have achieved!
Here are some photos of the fun we had!
Discover
During terms one and two we have been learning about special events that take place during the months of September - December, including, Diwali, Remembrance Day and Christmas.
For our museum event we created a timeline of our first two terms at Marksbury that went all the way around our classroom, it included quotes from all of the children in Puddle Class who were able to recall what we had learnt, we shared this with our families when they came into school to see what we had all been up to!
Christmas service...
Nativity!
Our Nativity this year was 'Bethlehem Bake Off' and the children worked incredibly hard to put on a fantastic show for our audiences, with many songs and lines to learn, as well as some excellent dance moves!
A frosty Christmas walk...
Exploring Chelwood...
____________________________
Gallery Term 6
Well done Puddles! You have completed your first year at Marksbury!

Gallery Term 5
Has anyone seen a bear? The children are enjoying their story writing this term.
Planting sweet peas for the EYFS garden.
Science challenge: To make a marble run.
The children worked as a team using cardboard tubes and masking tape.
Create Topic: Does colour matter?
We compared colour and black & white photos. "You can't see my chocolate button eyes in the black and white photo." "I can't see my lovely blonde hair." "How do you know which school I go to if you can't see the colour of my uniform?"
We painted in the style of Henri Rousseau, Andy Warhol and Kandinsky.
Gallery Term 4
We continued our Explore Topic with a trip to Keynsham.
The trip inspired lots of conversation, questions, role play and small world play.
Science - The Life Cycle of Animals
Learning about brass instruments ...
Easter fun!
We will be looking at the months of the year as our topic focus.
June
Please click here for our June learning overview
March /April
Please click here for our March learning overview
January / February
Please click here for our January learning overview
November
Please click here for our November learning overview.
October
Please click here for our October learning overview.
September
The children have settled in very quickly to life at Marksbury. They have enjoyed making new friends across the school, meeting the teachers and familiarising themselves with new routines.
Below are photos of our first week together.
2020 - 2021
TRIP TO CHELWOOD
The children had a fabulous time at Chelwood. They visited the woods and collected leaves and foliage to make mini wreaths.
Celebrating Diwali
The Hindu Festival of Light

After watching videos about the Diwali and how it is celebrated we used playdough, sequins and beads to make Diya lamps and used colourful chalks to decorate the patio in the style of Rangoli patterns.
NOVEMBER
WEEK 7
Our first school trip to Avon Valley Country Park!
We went to visit the Pumpkin Patch and chose our favourite pumpkin to take home.
We also enjoyed jumping in puddles and saying hello to the animals; especially the reindeer.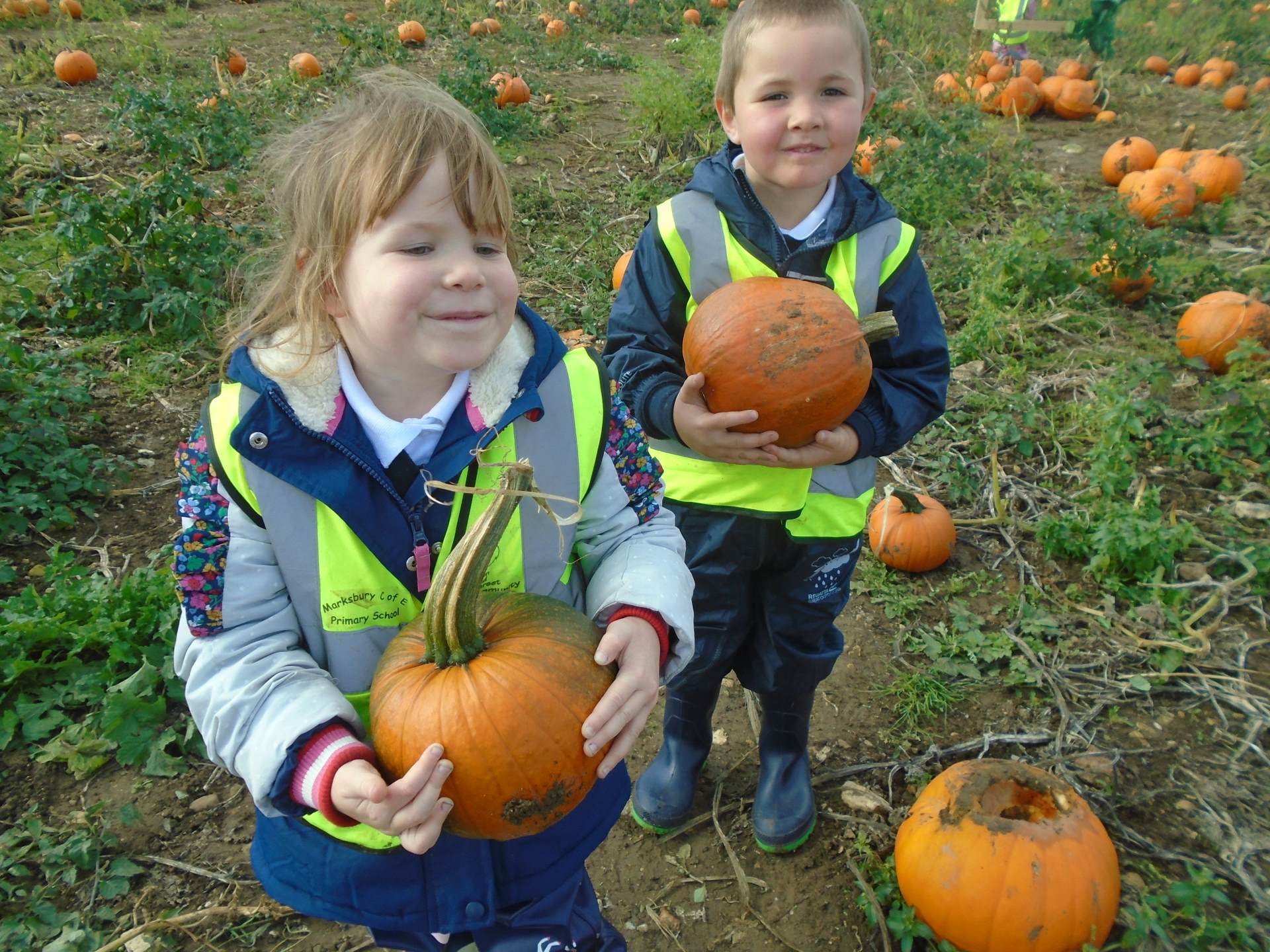 OCTOBER
WEEK 4
The children have been very busy in September getting used to school routines and making new friends. They have thoroughly enjoyed phonics writing and maths. They are especially proud of their perfected correct pencil grip and being able to use a knife and fork correctly. Well done Puddle Class! A super first month at school.
Harvest sing and sign: The Dingle Dangle Scarecrow
Taking care of our environment
Before tidying and preparing the garden for the winter the children studied the similarities and differences of creatures and their habitats.
Enjoying numbers outdoors
Enjoying writing outdoors.
WEEK 3
The children enjoyed picking the fruit and vegetables from the school garden.
Below are photos of our first week at school.
(Week 2 of the school calendar)
SEPTEMBER
-------------------------------
March to July 2020
Home Learning
Useful links to help you support your child's learning at home:
Please click each one for PDF files:
The above supports the learning of children of all ages with communication and language skills, listening and understanding and the importance of play and interaction.
..................................................
Hello Reception Class,
I hope you are enjoying learning at home and working through your home school packs. I will update the website weekly, adding activities for you to complete at home.
Keep busy and safe, from Mrs Cunningham
Dear Parents,
Please use the guide in the home school packs and the links below to help support your child's home learning.
To see the children's home learning videos click below:
22.05.2020 Pirate Day - click here
27.04.2020 Bird survey - click here
24.04.2020 Irish dancing - click here
SUGGESTED WEEKLY ACTIVITIES
Click here for suggested weekly activities for the week beginning 13.07.20
Click here for information about Fact Friday with Belle.
Click here for a suggested daily timetable.
Using your home learning resource pack.
Click here for 'How to make a felt bird'
Click here for cross stitch ideas
Archives
Click here for archived weekly activities 06.07.20
Click here for archived weekly activities 29.06.20
Click here for archived weekly activities 22.06.20
Click here for archived weekly activities 15.06.20
Click here for archived weekly activities 08.06.20
Click here for archived weekly activities 01.06.20
Please click here for a suggestion of craft activities during half term.
Click here for archived weekly activities 18.05.20
Click here for archived weekly activities 11.05.20
Click here for archived weekly activities 04.05.20
Click here for archived weekly activities: 27.04.20
Click here for archived weekly activities: 20.04.20
Click here for archived weekly activities:06.04.20 & 13.04.20
Click here for archived weekly activities: 30.03.20
Links for home learning:
Phonics:
Alphablocks-
https://www.youtube.com/channel/UC_qs3c0ehDvZkbiEbOj6Drg
Alphablocks interactive games-
https://www.bbc.co.uk/cbeebies/shows/alphablocks
Phonics interactive games-
https://www.phonicsplay.co.uk/ChildrensMenu.htm
http://www.letters-and-sounds.com/
https://www.topmarks.co.uk/english-games/3-5-years/letters-and-sounds
English:
https://www.bbc.co.uk/bitesize/subjects/zgkw2hv
Creative writing -
https://www.literacyshed.com/the-images-shed.html
https://www.onceuponapicture.co.uk/
Spelling games:
https://www.topmarks.co.uk/english-games/3-5-years/letters-and-sounds
Maths:
https://www.bbc.co.uk/bitesize/subjects/zjxhfg8
Numberblocks-
https://www.youtube.com/channel/UCPlwvN0w4qFSP1FllALB92w
Numberblocks interactive games-
https://www.bbc.co.uk/cbeebies/shows/numberblocks
Interactive games-
https://www.topmarks.co.uk/maths-games/3-5-years
https://www.oxfordowl.co.uk/for-home/kids-activities/fun-maths-games-and-activities/#maths-3-5
Our topics in Reception Class 2019 - 2020
will be guided by the months of the year.
March
We welcomed March with a fresh Spring walk through the lanes of Marksbury. We found many signs of Spring, including daffodils, buds and blossom.
After sharing the story of Mary Anning, the children mentioned that they were interested in fossils and dinosaurs and would like to learn more .........so we made a dinosaur fact book, dinosaur prints and fossils.
Enjoying the Spring sunshine and taking our learning outdoors.
February
January
Happy New Year!
The children were very excited to see their friends again after the Christmas break. They were keen to share their experiences of family celebrations and trips out.
In Term 3 we will be looking at winter and seasonal changes, animals and humans living in colder climates (comparing Arctic and Antarctic), freezing and thawing, different materials e.g. materials used for clothing. In Literacy we will be reading Traditional Tales and using our knowledge to inform our writing. In maths we will be learning to add and subtract. We will also be learning about Chinese New Year. A busy six weeks!
Art: The children thought about seasonal changes and what winter looks like in different places across the world. They then created a collage in the style of Pieter Bruegel the Elder's painting Hunters in the Snow.
Lots of fun was had during Challenge Time when the children used their gem powers to work together to make play snow!
Maths - Using counters and a 5 frame the children were introduced to addition. They successfully found the correct totals and were able to record their number sentences using symbols.
Progressing to a 10 frame ....
Child initiated activities: Making microphones to be used in the singing booth.
The children took full advantage of the sunshine today and took their learning outdoors. They numbered seats, made tickets and put on a show! Rock music, folk music, own compositions and Irish dancing was enjoyed by all.
Experimenting with gradient and speed ....
The Three Little Pigs. After reading the traditional tale and writing the story the children then built their own houses from bricks, sticks and straw.
Chinese New Year!
We love to read and write!!!
Warming winter cookery - Patatas Bravas
The children practised using sharp knives to cut potatoes into cubes. They then made a tomato sauce.
December
The children worked extremely hard and the Nativity performance was enjoyed by all.
photos to follow.
November
Firework painting
Music and movement inspired by fireworks
Maths

3D shapes - names and properties
Place value
Learning tricky words and reading ...

Artwork in the style of Paul Klee
Thursday Teas at St Peter's Church
Light and Dark
Exploring shadows
A visit to The Pig
A huge thank you to the staff at The Pig for their kind invitation to make lanterns and shadow puppets with Reception class. The children had a fabulous time.
We enjoyed hot chocolate, homemade pig biscuits and a story by the fire.
RE - celebrations and traditions
Preparing a birthday party ...
October
Whole school topic:
Our local area
Reception class visited Newton St Loe
After listening to residents of Newton St Loe the children drew a map. They used it to find the church, farm, cafe, playground and hidden treasure!!!
Each class prepared a presentation to be given to the whole school in assembly. Reception class made a map, church, piglets, sheep, horses and a tray with cups and saucers to represent their visit to Newton St Loe.

Map making
Colour mixing to make paper plate pink piglets.
Junk modelling to make fluffy sheep.
Building a church!
Role play and writing in the 'Unicorn Castle'.
Numeracy - making and breaking 5
How many ways can we make 5?
Learning to read
Counting objects
Our first school trip together.

Today we spent the afternoon at Avon Valley Country Park. We went on a country walk to spot signs of autumn, fed the animals and chose a pumpkin to take home to our families. We had great fun and the children were delightful company.

Hedgehogs and hibernation
After watching a video clip about hedgehogs in the autumn we decided to make our garden hedgehog friendly. The children collected leaves and placed them in a dark corner under logs to provide a possible home for hedgehogs over the winter.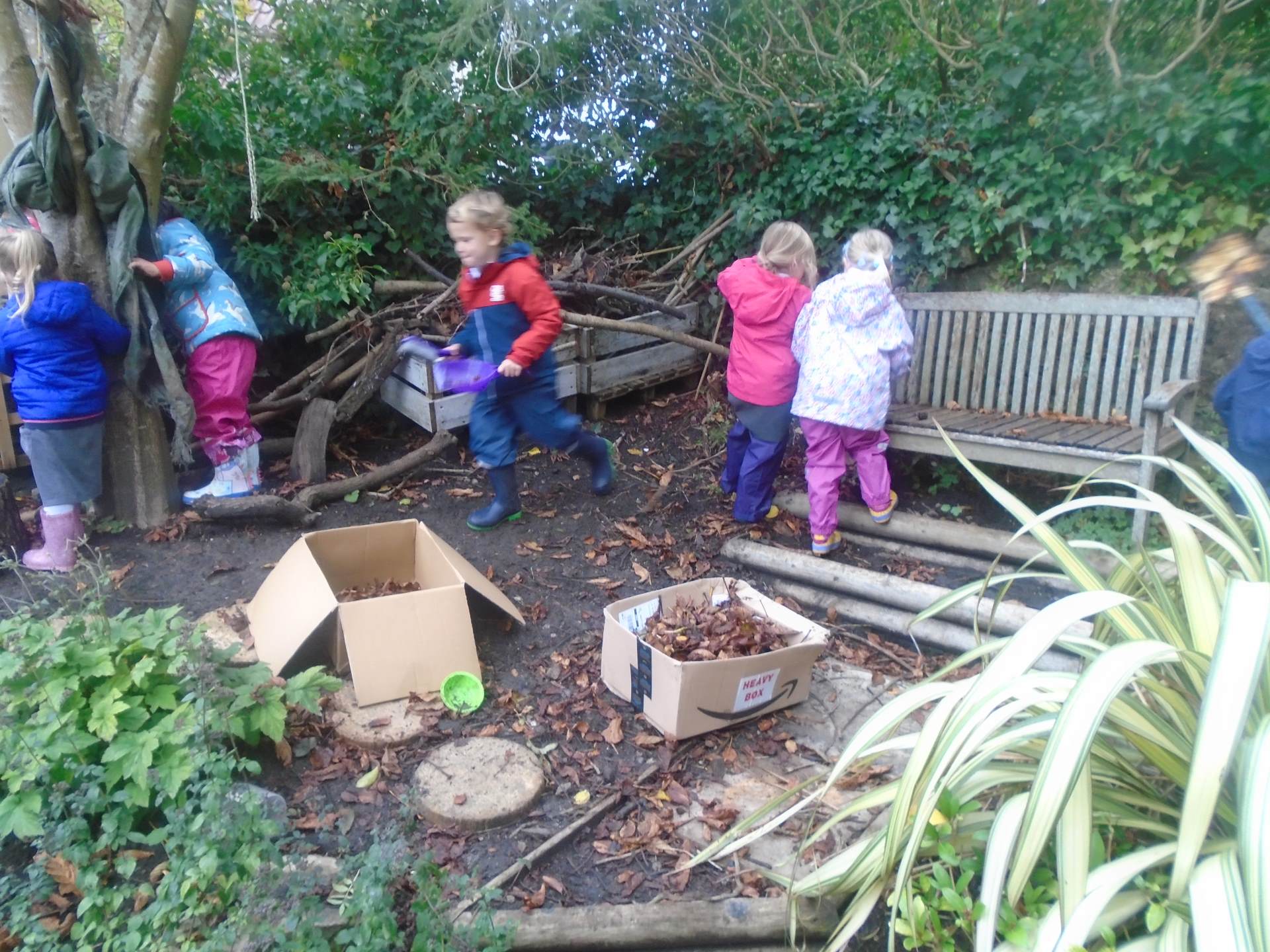 Our community - visiting St.Peter's church.
Leaf week!
Thank you everyone for your help in collecting a huge selection of autumn leaves!
We looked at the different types, shapes, colours and sizes.

Leaf rubbings
Making muddy puddles!
Questions asked by the children ...
Where do puddles come from?
How do you make a puddle?
What happens to the puddle when the sun shines?
What happens to the creatures in the puddle?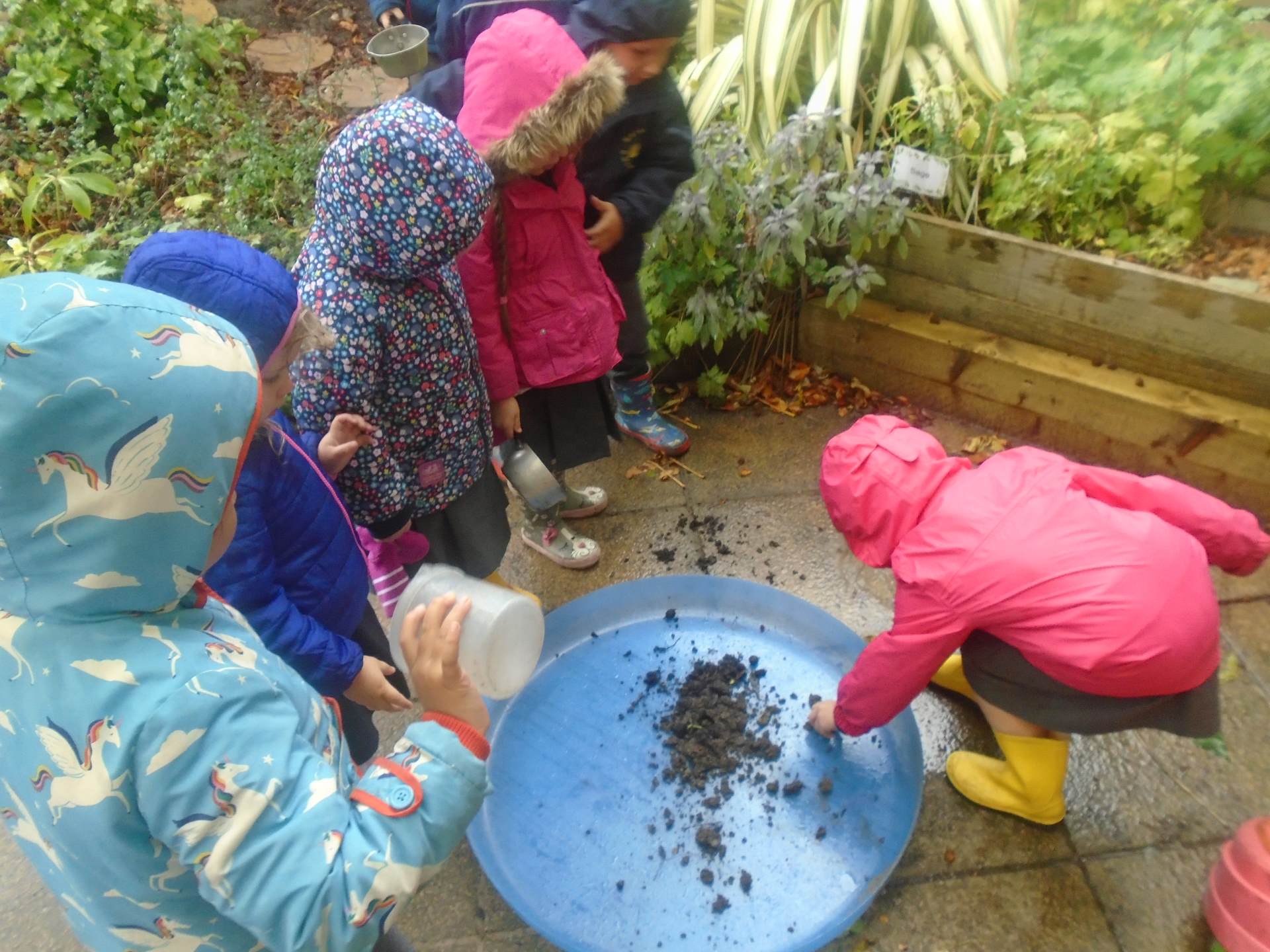 Camouflage
Today, the children were very interested to explore how leaves could act as a camouflage in woodland areas
for foxes and owls.
Can you see the fox and owl?

Leaf creatures
We read the text 'Leaf Man' by Lois Ehlert.
The children then made their own leaf creatures ...
September
For topic web please click here.
We have had such an enjoyable first few weeks in Farrah Class and everyone is making friends. Below are a sample of photos.
Please remember to send in your photo permission slips so that we can add more photos of our learning!
Exploring colour mixing
Blackberry picking
Mark making and writing!

Den building
Maths - repeating patterns